OK that said, enough advertisement and lets get on with the program!

First lets address the Stahl - Stall issue. "Stahl" is the "correct" spelling in Germany. It translates to "steel". In America we find Stahl, Stall, Stull, Steele, etc. and they may or may not be related. Daniel Stahl used the Stall spelling in the 1860's but is buried Stahl. William Stahl Jr. the same. William Stall, out ancestor is always listed Stall and is buried as such at Chili, Oh. Uncle Ed told me that the name changed back to Stahl when rural delivery of the mail came to Adams Township. He told me Stahl was the correct spelling. It seems that all of the ones who went west keep the Stall spelling. Stahl is a common German name.

I don't know much about our ancestor William's background. I have several leads and will post them in another installment. Family lore says he was born in Penn. and the census records agree with this. Supposedly he was born near Harrisburg, Pa. He was born Dec. 31,1791 or Jan 1, 1792. Depends on how you read his stone and subtract the age at death. He died July 24, 1853 and is buried at Chili, Ohio. He married in 1816 in Harrison County, Ohio. Dave Stall says this occurred on Sept. 15, 1816. His wife was Susanna Firebaugh. She was born probably in Penn. but their are some sources point to Maryland. She was born about 1797 and died jan. 22, 1861.

She also is buried at Chili, Ohio.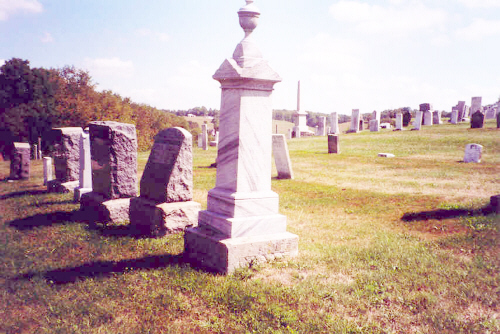 This is their stone in the first row of the cemetery. The stone just to the left is Susan Stall who married Simon Barrick and then later Joseph Kimball.
The church is gone now but it was the Evangelical English Lutheran Church. It was formed in 1832 and William and Susan were supposedly charter members. Unfortunately the record books seem lost, they did exist at one time, but no one seems to know what happened to them. I have spent several days tracking down members to try to come up with them, but no luck so far. I do know that William Stall and his son Anthony Stall were at one time elders of this church.
Why William Stall came here and settled and when I have often wondered. This part of Ohio is what is known as the United States Military District. It was a section of land set aside to be given as bounty to veterans of the Revolutionary War for their services. The new nation did not have money so they gave away land. The land was surveyed into townships five mile square and numbered. Each township was surveyed into quarters of 4,000 acres and these quarters were entered by the veterans. It became apparent that their was more land in this district than veteran warrants so in 1803 most of the land that was not entered at that time was surveyed into sections one mile square and put on the market. It is under this system that William Stall bought 160 acres from the United States of America. Unfortunately he did not record his patent so i don't have the exact date but he settled on the southwest quarter of section 23. He sold some of this in 1818 and both William and Susanna signed the deed, so they must have been here in 1818. They were definitely here in 1820 for the census.
Family legend says he was the third man to settle in what would become Crawford Township, Coshocton County. History books of the county and what deeds were recorded seems to make this a fact. Jacob Miser settled in 1815, Philip Fensler in 1816, then our ancestor William about 1817-18. At this time the land was still wild. Virgin forest with trees 80" in diameter. Grapevines as thick as a man's body. Though friendly, the Indians still hunted this area and white man and Indian hunted together.
Uncle Ed said they would carry an ax at all times to beat on the rocks to scare away the wolves from the sheep. Bears and panthers were also numerous. Grand-dad Daniel once shot a panther that measured 6' 9" from tip of nose to tail.
Uncle Ed said when they reared the cabin, people came for five miles around to have enough people for the raising. What a lonely place this must have been when grandma was giving birth and raising her family. No physicians in the area, only mid-wives. It wasn't until about 1832 that the township began to get populated. Later it was occupied by a large German immigration, several descendants of which still live in the area.
The land is hilly with small fertile valleys. Green and beautiful. It has always been agricultural, even now no large towns are in the township, and farming is the main source of income for residents of the area.
I have record of ten children and it seems that all of you so far agree on this number. However their is a chance of an eleventh child. Several in the family, including Uncle Ed told of a son of William and Susanna that joined a "cult" of devil worshipers. One of the last rituals was to sign his name in blood. One day this child disappeared and was never seen again. I asked Uncle Ed several times and he said for sure it was a brother of his dad (Daniel). Looking at birth dates, I don't know where this child could have fit in. I just put it here as it is told too many times to be overlooked, but I have no personal proof of such at this time of an eleventh child. Everything else Uncle Ed has told me has proven to be fact.
Here is what I have for children and some of the dates have been changed from my earlier notes thanks to info some of you have sent me. Census records have proven to be somewhat inaccurate in recording ages of children.
1. John Stall, born abt. 1817 died Oct. 1, 1884 (Dave Stall, Jade Sporhase)
2. Daniel Stall/Stahl, Sept. 6, 1819 - Oct. 24, 1903
3. Catherine Stall; 1821 - 1860
4. Elizabeth Stahl, March 10, 1824 - March 15, 1922
5.Susan A. Stahl, Feb. 17, 1826 - Dec. 29, 1909
6. William Stall/Stahl Jr. Feb. 21, 1828 - April 8, 1912
7. Anthony Stall, 1831 - 1891 (Jade Sporhase)
8. Lucinda Jane Stall, 1832,33 - Oct. 23, 1906 (Dave Stall)
9. Samuel Stall, Sept. 13, 1834 - May 27, 1928 (Betty June from Tulsa)
10. David Delmar Stall, March 14, 1836 - Nov. 20, 1930 (Dave Stall)
I have noted in ( ) who my source was when I changed my notes. For instance in the 1850 census Anthony should have been born in 1834, David in 1838, etc.
Only Daniel, Elizabeth, William, and Susan stayed in Ohio. Catherine went to Illinois. Sam and David to Indiana before heading to Nebraska. John went to Nebraska and Lucinda eventually to Nebraska. Sam and David came back to Ohio to visit several times.
I can find no will for William Stall. Or anything on the settlement of his estate. He had sold much of his land before he died and the home farm ended up in possession of the children who later sold their shares to Samuel and David. Sam and David then sold the farm and went west. Land ownership of the Stall's in Coshocton County is complex as some land was sold back and forth between brothers and some of the deeds were not recorded. Lands will be the subject of another installment which will include maps as you are not from this area. The homestead of John no longer stands, but Daniel and Anthony's houses still do.
Grandma Susanna lived until January 22, 1861. She is buried beside William at Chili, Ohio. No know pictures exist of either William or Susanna Firebaught Stall.
The home farm stayed intact (except for part Wm. sold in 1818) until last year when it was auctioned in parcels and now several houses are being built upon it. Some of it is still farmed as it has been since about 1817 when it was homesteaded by our ancestor.